Fender BEN GIBBARD MUSTANG®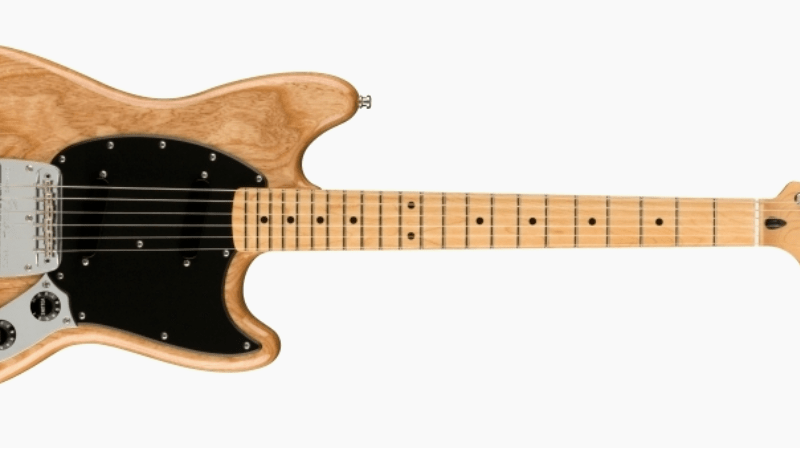 Since the late 1990s, Ben Gibbard has been a prominent voice in indie rock as singer-songwriter for the platinum-selling band Death Cab for Cutie. His melodic, personal songwriting style and the band's powerful sound helped pave the way for generations of musicians to follow.
Ben's modified '70s Fender Mustangs have been his preferred touring choice for years. The Ben Gibbard Mustang recreates his modified touring workhorses and adds some bold new enhancements.
Featuring a chambered ash body design for increased resonance and reduced weight and a one-piece 22-fret modern "C"-shaped maple neck with 9.5" radius fingerboard and medium jumbo frets, this guitar is a comfortable and versatile stage performer. Electronics include a set of custom, vintage-inspired Ben Gibbard Mustang pickups and a stage-ready 3-way rotary pickup selector switch. What appears to be a vintage-style Mustang bridge is actually an innovative modified hardtail setup, providing rock-solid stability, intonation and sustain.
Includes strap locks and a Fender gig bag.
FEATURES
Chambered ash body
Custom Ben Gibbard pickups
3-position rotary pickup selector switch
Modern "C" neck shape
9.5" radius maple fingerboard with 22 medium-jumbo frets
HIGHLIGHTS
SPECS
SUPPORT
CHAMBERED ASH BODY
Offers rich sustain and focused midrange with striking grain patterns.
CUSTOM BEN GIBBARD PICKUPS
These pickups have been custom-voiced to emulate Ben's personal vintage Mustangs.
3-POSITION ROTARY PICKUP SELECTOR SWITCH
This simplified setup eliminates multiple slider switches and tone control and camouflages the pickup selector as the tone knob.
SHORT SCALE COMFORT
The 24" scale combined with a 22-fret Modern "C"-shaped maple neck and 9.5" radius fingerboard make it an easily playable guitar for musicians of all levels.
SIMPLIFIED CONTROLS
Per Ben Gibbard's personal spec, all extraneous switches and controls were removed and replaced with a single master volume and a three position rotary pickup selector.
MUSTANG BRIDGE WITH MODIFIED HARDTAIL SETUP
This Mustang's tailpiece is locked in place for ultimate stability and resonance.